So tons going on...as usual. The biggest thing being the wedding...it's coming so quickly, it's blowing my mind. It seems like a couple weeks ago I had seven months and now boom! I've got two and a half months!! There's still so much to do around here. But we're chugging along, ticking off the list. The invites are out and I'm honing in on all the table decorations and garden ideas. I found my shoes...so yay! for that...some seriously gorgeous Badgely Mischka...as if anyone is going to see them under the dress...and truth be told I'm still thinking of going bare foot!
Down to business...
We expanded the chicken pen. They may not seem like a lot..but it is. It seems I went a little bonkers this spring when it came to adding some new chickies to the brood. You may remember that my two best chickens were kidnapped last year and I've been wanting to add some new girls. Well I did, four new girls to be exact! So I felt the extra space was in order..let me explain.
Who knew this chicken thing was going to be such a big deal? They're like shoes, I swear...they're all so unique and pretty, you can't help but buy a bunch. I learned too late last year about some of the different varieties and took what I could get from the feed store, which was fine, but I ended up with dark colored, somewhat simple looking hens..which is fine, until I learned about some others and had wished I was more selective.
Well this year I did a better job of scouting out the best chickies around. And I'm OBSESSED with finding a Blue Laced Wyndotte. It's as amazing as it sounds...it's blue and spectacular, and as it turns out...rare...so no Blue laced Wyn for me this year, or a Blue Orpington...geez I want both this gals...however, I did opt out for her first cousin, the Silver Laced Wyndotte...her name is Winnie..or Wynefred. She's teeny and feisty. She will have solid white feathers completely outlined in thick black, she'll look like a piece of art. Here's the Blue gal and below her is the Silver...spectacular right?
and here's my Winnie...now believe it or not she's super tiny, but holding her in my hand with the close up makes her look bigger...she's got one whopping of a squeak!
Then there's the Barred Plymouth Rock...now this is exactly what you would expect a chicken to look like. She's big, black, with white lines going across and that big red comb. I thought my Maxine might be a Max because her feet are ginormous and she's growing so fast, but it doesn't appear so....either way, I was kinda looking forward to her maybe being a Rooster, as this is the most awesome looking critter...he's very regal. Here's a Roo, (as we in the chicken world call them)...and my Maxine will look the same only no big beautiful floppy tail feathers...oh and one major deal...my girl has blue eyes!! This is very rare for chickies...it's totally cool!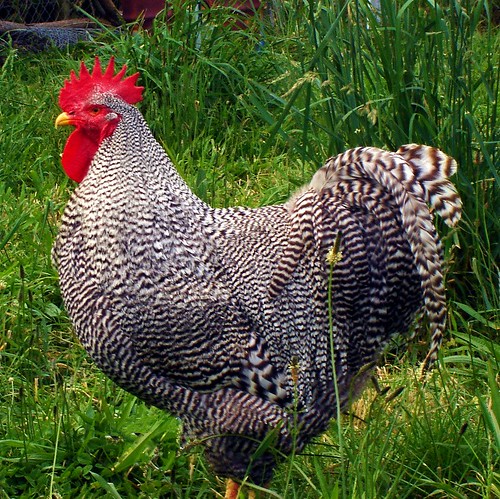 ps. this is a four/five week old girl...so big
Now on to the Bantam. This is my first...actually, second....let me explain, yet again.
I wanted to find another Blue Cochin, as my Marilyn was a standard Blue and is no longer with me and she was the prettiest one I had. They are extremely fluffy and have feathers all the way down their legs, onto their claws...I couldn't find any Blue Cochins, the only available were black and white, and they were Bantams. Bantams are smaller chickens..2-3 pounds at best...so I got both a black and a white. I named the all white Cochin Marilyn, I thought it seemed fitting...and the all black I called Ava...again, it seemed fitting, except Ava turned out to be a Roo and I decided that if I were going to have a Roo, which was kinda not on anyones list around here, including our neighbor...then I wanted something outrageous, not a tiny little ball of black...they are super cute, but not majestic. So here's my little Marilyn.
As for Ava...she, I mean he, was brought back to the feed store and I was able to get my Blue Cochin..a standard Cochin and her name is Petunia...and she is about the teeny, tinniest little thing you ever saw...she was only two days old when I brought her home...she literally fits inside my palm...she simply adores me and sits in my hand and stares at me...I love her to death already! This photo doesn't show how little she is in the least, seriously, she is smaller than my palm, I hold her completely covered in my fist...again, I pushed her way up into my hand and got a close up, so you can't see how truly adorable she is...damn this really doesn't show how super tiny she is, it's too freaking cute!!
and this is what she can look like when she's older...my last one was more grey all over..so we'll see.
So that's the story with the girls...and because I now have SEVEN chickens...well expansion seemed the humane thing to do. Don't forget, I have two duck in the same area as well...will save that topic for another day.
So as soon as we're finished I'll get those pics out. Today I planted some kale, cucumbers, tomato, and peas in pots and hung them from the fence so as they grow and hang down the girls will have their own fresh vegies to munch on. We're making a planter post in the middle and I'm going to plant strawberries there too...they really like strawberries...it's just a really happy part of my life...I know that sounds odd coming from me...but it really is fulfilling on so many levels for me...I love it!
And since this post ran so long, I won't get into everything else other than to say we went to the A's game a couple days ago...the one against the Yankees...geez! It turned out to be an 18 inning game!!! Yes, 18 innings!! We won, thank god!! So here are those fun six hours....
So I still had a ton of other photos to share..like our ride back in the car through the forest...spectacular! Sometimes I can't believe that we live in this amazing town. I feel so blessed to be here. You drive through the giant redwoods and breath in calm...it's the best place ever to live. Photos don't do it justice anyway...but I'll try....
You drive until slowly but surely little house begin to creep in and then your in the little town of Boulder Creek, or Ben Lomond, or Felton....
okay, so out of nowhere I can't upload any photos...so this must be a sign to stop for tonight...I promise I'll finish this post in a day or two, to include the photos we took in Berkley and the cute little towns we drove through the forest to get home to.
My book update to follow, and again ....much much love to all my followers and friends for all your tremendous support...enjoy!